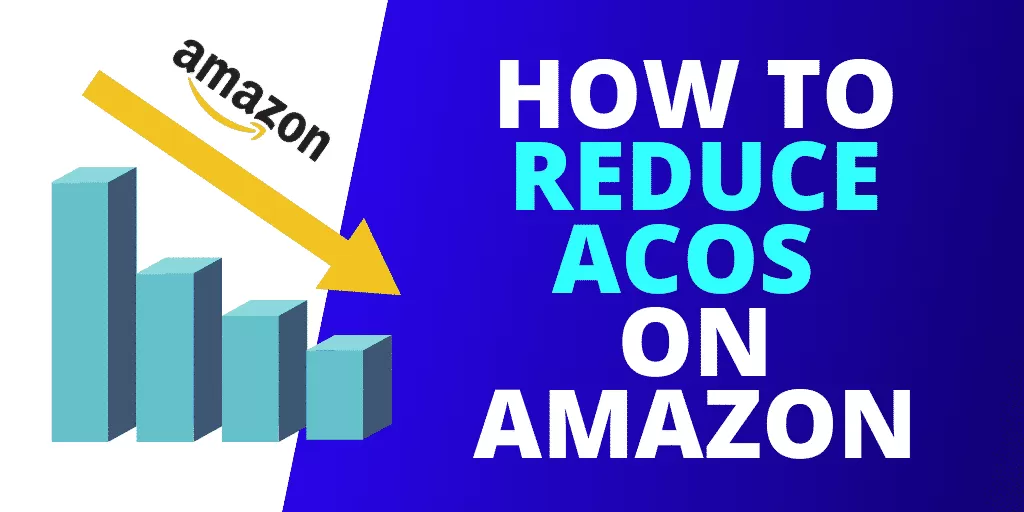 How To Reduce ACoS on Amazon (Advertising Cost of Sale)
How To Reduce ACoS on Amazon: Focus on Buyer Intent Keywords, Decrease your bids, cut or negate poor performing keywords in your Amazon advertising strategy, improve your product sales copy, product titles, imagery, Amazon A+ content, video, Amazon ads targeting, get Amazon influencers, Amazon listing optimization & more.
---
ACoS is Average Cost of Sale.  Displayed as a percentage, (the lower the better) Amazon ACoS tells you how effective your Amazon ads are. This is Amazons preferred method of displaying Return on Ad Spend which also is displayed on Amazons Search Terms reports.
---
Reduce ACoS to your TACOS (Target ACoS) and you will spend less to sell more. This is EXACTLY how to do just that.
---
Whether you're an Amazon Seller Central Seller, Amazon Vendor Central Seller, or selling Amazon B2B paying a ton for ads on Amazon with a high ACoS is stressful.  So stressful in fact, it can make your eyes water when looking at your Amazon campaign reports and seeing a high Average Cost of Sale (ACoS).
Maybe you're using Amazon FBA (What is Amazon FBA?) or even FBA Small and Light but your ACoS still isn't what you want it to be.
You're going to learn PROVEN methods from a top-rated Amazon Seller Consultant with over 10 years of experience owning an eCommerce Consultancy that are within your control to reduce your ACoS on Amazon.
You'll be able to reduce your ACoS on Amazon by focusing on the action items in this article.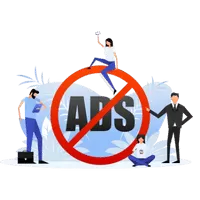 Don't Run Sponsored Product Ads vs Big Brands To Reduce ACoS on Amazon
Odds are, you likely have found the most successful players in your space, entered them into Helium 10 or Jungle Scout, and downloaded their keywords. 
Then, you selected the ones with the most search volume, added them to your listing, and started running Sponsored Product Listing ads on them.
This was a mistake unless you have thousands of reviews, a fantastic Unit Session Percentage, and sales history.
In other words, if you can stand shoulder-to-shoulder with the brands that sit at the top of search results. 
Have a look at this: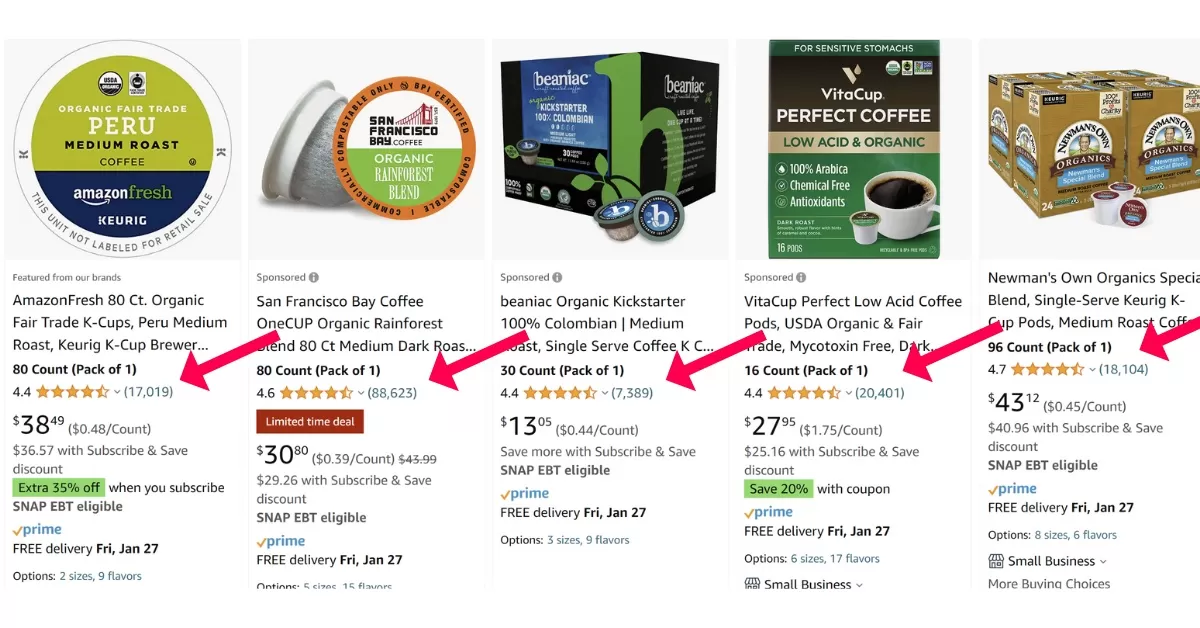 If you don't have 20,000 reviews, even if you offer a fantastic price, customers will click on you, but they won't buy. 
This has everything to do with value framing.
You want to de-frame yourself from the competition.
So, instead, to reduce ACoS on Amazon, focus on lower volume, long tail, and buyer intent keywords that they're not competing on until you build enough momentum.
Not only will you get clicks and not sales on these huge volume keywords, but you're swimming with the sharks and the clicks cost a lot.
You can run those same competitors through the same tools but focus on the buyer intent keywords where they're in position 50 – 100.
Focus where they aren't. 
Speaking of not copying the big brands on Amazon…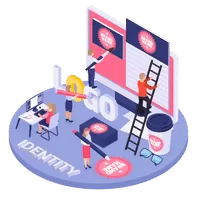 Stop Emulating The Big Brands To Reduce ACoS on Amazon
One of the other common mistakes you see is looking at the big successful players in your space and copying what they do.
The problem?
They make mistakes and get away with them.
You see their estimated monthly sales and you create a correlation with that and what you see on Amazon.
This couldn't be farther from the truth.
What you don't see are:
All the Facebook Ads they run to Amazon
All the Instagram Ads
All the Google Ads
The Amazon Influencers they partner with
The traffic they drive from their huge email lists
The mega PR they get from major publications
& more
Couple that with all of the retargeting and display ads, they're everywhere.
This builds continuity and trust in the eyes of the consumer, because they see these brands everywhere they go.
That means, they can get away with things like this:
Poor copywriting
Poor color-psychology
Bad graphic design best practices
Bad A+ Content
No product videos or bad product videos
What you should do?
One of my most popular articles over on The Business Journals is: Stop Emulating Big Brands Online, Do This Instead
In that article, it boils down to this.
Get good at selling, copywriting, color psychology, graphic design, video & more.
You need to be far above and beyond what they are from a brand representation perspective to compete against the big brands. 
Focus on proven, age-old techniques to earn consumer trust, boost perceived value and drive sales when you don't have tons of reviews, aren't everywhere online, and don't have huge advertising budgets.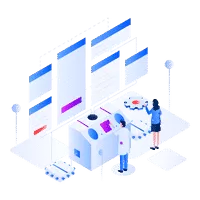 Reduce ACOS With Ad Optimization
In my Amazon Consulting experience, the very first place to start to reduce your ACoS on Amazon is the front lines.  The ads themselves.
One of the biggest misconceptions of not just selling on Amazon, but eCommerce is that you want everyone to come to your product listings.
This couldn't be further from the truth.
Your conversion rates on Amazon impact how much you are going to pay per click.
If Amazon's algorithm does not think you're going to result in a sale, you will not get as many impressions and you will pay more for clicks.
So, if you are sending lots of traffic to your listing that will likely not convert, you are driving up your ACoS on Amazon and making your other campaigns cost more across the entirety of your ad console.
Make sure you're targeting the right customers and not showing ads to the wrong potential customers.
Having customers click on your ads and view your listings even though you aren't selling what they are looking for is not brand awareness.
Brand awareness campaigns are entirely different.
Naturally, your average cost of sale will go down if you are targeting potential customers that want to buy rather than those in the research phase or looking for something, in particular, that isn't what you're offering.
How do you find out?
Buyer Intent Keywords
If you're running your competitor ASIN's through tools like Helium 10 or Jungle Scout, selecting the most searched keywords, adding them to your listing and then running ads on them, you're making a big mistake.
Both your ACOS  on Amazon and Amazon SEO rely on high conversion rates or Unit Session Percentage.
So what are buyer intent keywords?
Buyer intent keywords are keywords that indicate the customer has already done the research and know exactly what they want.
So, if they see your offer and click on it, they are very likely to buy, thus, increasing your unit session percentage.
But, if you're targeting very general keywords, the customer is likely doing research to see what's out there.
Those general keywords are great for brand awareness campaigns and strategies.
But if you want to lower your ACOS on Amazon, they're not for you.
Here's an example:
You sell Recyclable, Organic K-Cups that are French Roast and are Fair Trade Certified.
Customer searches:
Brand Awareness:  K-Cup
Buyer Intent:  Recyclable Organic French Roast K-Cups Fair Trade Certified
If you sell French Roast K-Cups, and someone searches "K-Cups" how do you know if they want French Roast, Colombian, Sumatran, Breakfast Blend or Donut?
How do you know if they want Organic?
You want to focus your efforts on Buyer Intent keywords if you're looking to decrease ACOS on Amazon PPC.
Worried about search volumes being low on Buyer Intent Keywords?
Don't be.
A really low ACOS and high Unit Session Percentage will earn you significant opportunities in front of the Brand Awareness traffic in other tactics.
There are simply different techniques for different objectives.  
Negative Keywords
Whether you're running automatic Amazon ads on your Sponsored Product Listings or manually targeting customers with your own keyword research, you will want to always optimize these.
Here's how:
How To Reduce ACOS By Setting Amazon PPC Negative Keywords:
Run your search terms report
Identify  the terms that are driving clicks, but not converting sales
Determine which of those keywords are not relevant for your products or likely don't make sense.
Add them to your Negative Keywords List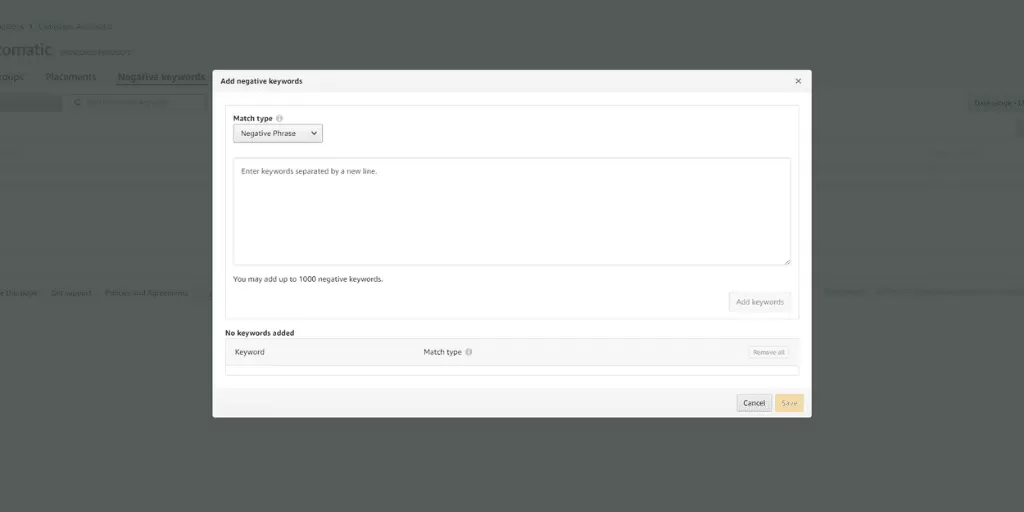 Negative keywords are a powerful tool to make sure you aren't wasting precious clicks on potential customers that are just doing research or looking for something completely different.
This will reduce your ACoS on Amazon by helping filter out people who aren't a good fit to buy.
Reduce Bids on Poor Performing Keywords
As you're looking through your Amazon Campaign, view the Targeting tab.
Here's what to do next:
How To Optimize Your Bid Strategy To Reduce ACoS:
From within the Targeting Tab, click on Columns
Choose Customize Columns
Add Impressions
View your keywords that you are targeting and identify the keywords that have a high ACoS over 50%  (this one is a rule of thumb, some have better product margins than others.).
If the ACoS is really high, shut off the keyword.
If the ACoS is around 50% or close to your target ACoS (TACOS), then decrease the bid by about 45% or 50%.
Now, if your ACoS is great, step on the gas and increase the bids.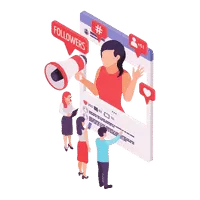 Reduce ACOS With Amazon Influencers
Did you know Amazon has had Amazon Influencers referring to Amazon since 1996 and they're responsible for over 37% of Amazon's traffic today? 
It's called the Amazon Associates Program and it's the worlds largest affiliate program.
It's full of Bloggers, YouTubers, Social Media Influencers, Twitch Gamers, Medium Bloggers, Quora Question Answers, Facebook Group Members, EVERYONE.
What's more, did you know that most of the sales from top-selling brands don't originate on Amazon?
A typical Amazon seller will look up one of their competitor products…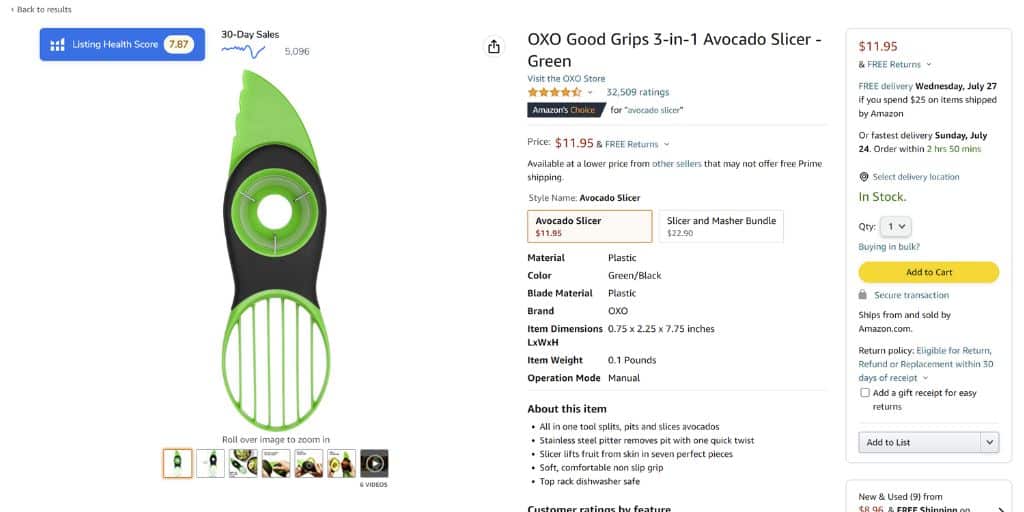 Then, run their estimated sales through a tool like Helium 10.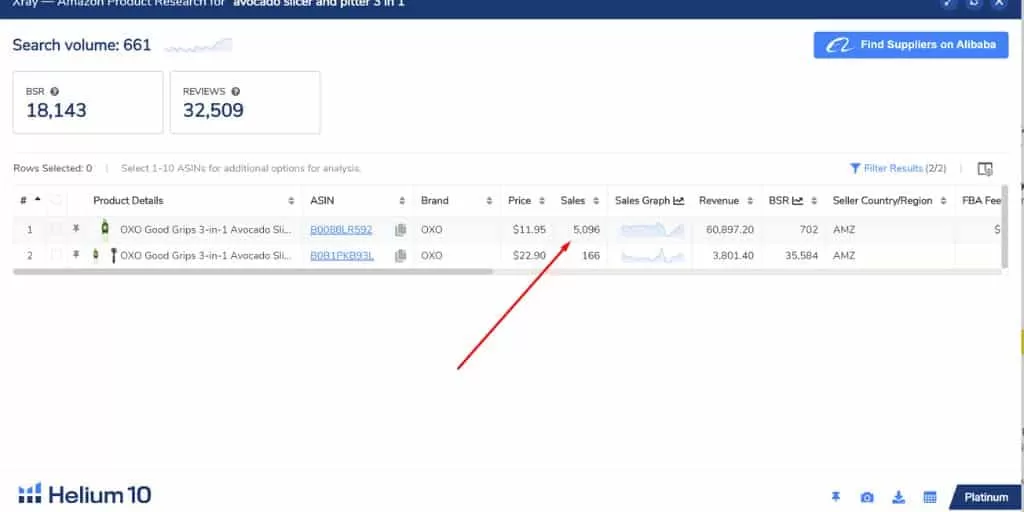 Then they say, okay great, now we just need to…
Download their keywords and add them to my listing.
Upgrade my listing content like A+ Content and Gallery Images
Run ads on the top keywords
Increase my reviews
… then we can get a good portion of their sales and hopefully one day overtake them.
Then they do everything they said but don't see a fraction of the results of their competitors
Why? 
So then you run them through a tool like Traffic Analyzer at SEMRush to see where they're getting their sales from.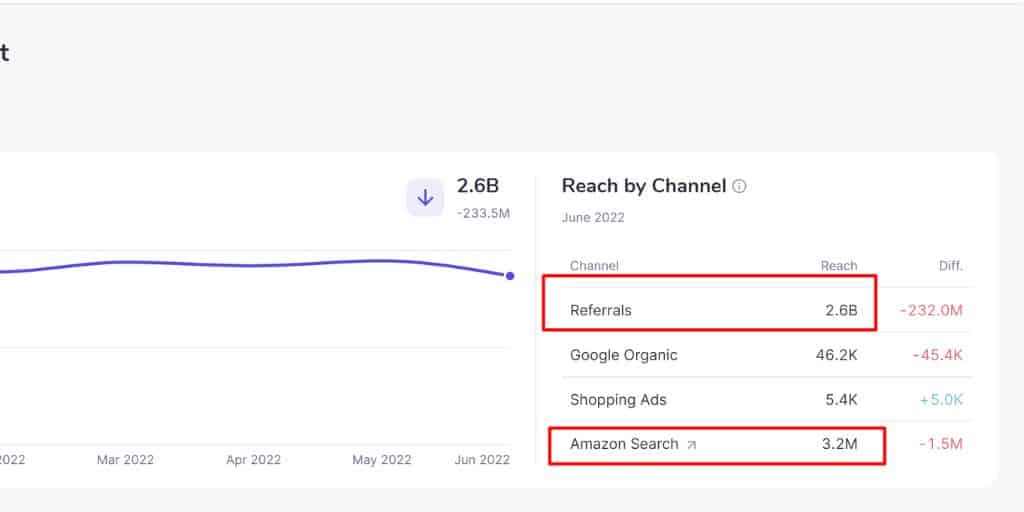 Then you find the answer.
They're getting the majority of their sales from external traffic referrals.
Amazon Influencers.
An Amazon Influencer has audiences that visit their sites, videos, blogs & more RIGHT BEFORE they are ready to make a purchase.  They go to their blogs, get the information they need and then goto Amazon and make a purchase.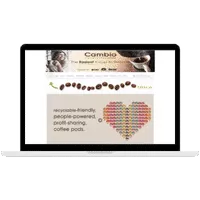 Boost Your Amazon Store Sales
Get The EXACT Template My Clients Use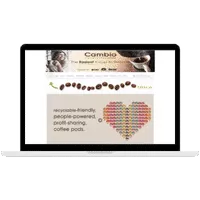 Boost Your Amazon Store Sales
Get The EXACT Template My Clients Use
Better yet?  They create the types of content that GET CLICKED ON in Google, Flipboard, Apple News, Google News, Facebook, Pinterest, YouTube and more.
Imagine you sell a game for folks who love going to the beach.
Now, imagine if you were included in an article like this?
18 Outdoor Games You Need If You Get Bored At The Beach
That's where you want to be to increase sales on Amazon.

Book a call to solve problems quicker & easier.
They come in all shapes and sizes too; Today USA Today, Business Insider and Good House Keeping are part of the Amazon affiliate program but so are micro-influencers like Busy Toddler and everyone in between.
So, what's it cost?
Well, this is possibly the best thing ever.
When Amazon Influencers refer a sale to Amazon, the commission comes out of Amazons' pocket, NOT YOURS.
I'm serious, you likely have influencers who are Amazon affiliates referring sales to your products right now and don't even know.
They're referring sales to Amazon literally every minute, may as well be yours.
That said:
How does this decrease ACoS on Amazon?
Driving external traffic to Amazon product listings reduces ACOS on Amazon by increasing your impressions and conversion rates.
If you're not creating a buzz OFF of Amazon, then you will be paying a premium for your Amazon Sponsored Product Listings and Amazon Sponsored Brands ads.
Paying attention to how popular a brand is what drives decision making in Amazon's algorithms.
Ask Alexa.  Amazon has owned it since 1999 to keep track of what brands are doing off of Amazon on websites, social and more to forecast what will sell on Amazon.  They sell that data to brands, marketing agencies and more in the form of a marketing tool.  Oh yeah, it also powers the smart speakers in your home right now.
This helps you on Google too by the way.
Ever check out Google Trends?  It will change your life.
It measures the buzz about brands online and influences Google PPC, Google SEO and more.
Building a buzz off of Amazon increases Amazon SEO, reduces Amazon ACoS in PPC and more.
Plus, think of it from a pure logic standpoint and forget complex algorithms.
If customers see your brand and product, talked about in a way that boosts its value, from someone they know like and trust, the next time they're on Amazon and see your Amazon PPC ads, they will click on it and make a purchase.
You'll more customers and fewer tire kickers who don't know, like and trust you yet.
But how do I find Amazon influencers who are experienced in referring to Amazon?
How To Find Amazon Influencers – The Hard Way:
Scour Google
Look at blog after blog and check if they link to Amazon a lot
Then create spreadsheets
Reach out to them
See what works for you, what doesn't and keep it going.
Or, you could use Referazon who instantly finds Amazon influencers who are already experienced in referring to Amazon specifically.
Referazon doesn't take any commissions, has a fully functional free trial and a money back guarantee.
Referazon makes it effortless to gauge the value of an Amazon influencer, track them and even tells you EXACTLY what to ask for from them to get the most value for your company.
Once again, the commission paid to the Amazon influencer comes out of AMAZON'S POCKET and generally speaking, all it takes to get started with an Amazon influencer, depending on their size is a free product for them and one for them to give away.
Your mileage may vary, referral fees have been around since at least 1760 since Robert Wedgewood of Wedgewood China started using endorsements from the Royal Family to boost their pottery sales.
The ROI from influencers referring your products on Amazon is staggering.
But what else helps influence getting the correct people to click on your ads?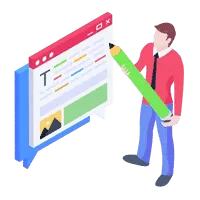 Reduce ACOS With Product Title Optimization
In my experience providing Amazon Consulting Services, a great way to filter out people who shouldn't be clicking on your Amazon ads is by keeping your titles ultra-focused.
Besides the reviews, price and image, the product title is the main determining factor of a click-through for Amazon Sponsored Listing ads.
Your Amazon Product Title should do a lot of the selling for you if done correctly.
Reduce ACoS With A Great Product Title That:
States the brand
Focuses on Benefits & Key Features That Give Competetive Advantages
Answers Questions
Overcomes Objections
What's more, you are making it clear what you DON'T have.  
Like we were discussing in the advertising section, you do not want to send irrelevant customers who will not convert to your listing.  
There are other ways of achieving brand awareness.
Your product title can be a powerful mechanism to filter unwanted clicks out.
By crafting a great Product Title on Amazon, you are doing your part in making sure people who aren't a good fit to click on your product, won't.
Now, you've got the right people to click through, how else can you reduce ACoS?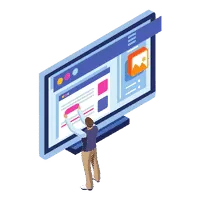 Reduce ACOS With Amazon Listing Optimization
After a customer has landed on your product listing, generally speaking, they immediately begin to consume the content of your bullet point section.
From there, they then may scroll down to evaluate the Product Description area to find other details not mentioned in the Bullet Points.
If you have a poor Average Cost of Sale, this is where you want to start as far as things you can control on your listing.
Reduce ACoS With Great Amazon Bullet Points That:
Focus on main benefits first.
Focus on key differentiating features second.
Answer key objections or common customer questions third.
Focus on displaying ease of ownership or how to use fourth.
Mitigate buyer risk fifth.
Learn more in:  How To Write Amazon Bullet Points
Usually, a customer will make a purchase by this point if you did a good enough job with your Amazon Listing Optimization and your images, which we'll discuss next.
If not, you still have more opportunity!
Reduce ACoS With A Great Amazon Product Descriptions That:
Focus on key product features.
Clearly spell out how to use.
Reinforce key benefits.
Make specifications easy to understand.
Reinforce your mitigation of buyer risk.
Besides being a great place to include a lot of great keywords for Amazon SEO your product descriptions and bullet points exist on your front line to convert a customer and reduce ACoS on Amazon.
But, that's not all…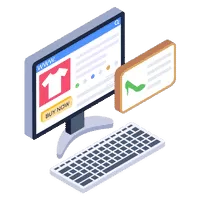 Reduce ACOS With Amazon Product Images
The quality of your product images can drastically reduce your ACoS on Amazon quickly.
Simply by leveling up from typical boring manufacturer style photos to an image set of at least 6 images (Why 6?  This is why: Amazon SEO:  Everything You Need To Know) that accomplishes the following will yield a quick improvement for your ACoS.
This is also where most folks selling Amazon B2B drop the ball, uploading lackluster images and also not enough of them on their business only SKU's.
Reduce ACoS With Great Amazon Product Images That:
Convey the emotion of what it feels like to use your product
Answer questions (sizing, will it fit x, y, z, etc.)
Overcome objections
Highlight key benefits
Show off the product from the most enticing angles
If your current product images on Amazon are not accomplishing these or were not taken originally with those goals in mind, then I would strongly recommend improving your Amazon product images.
Besides the angles and items listed above, there is another, easy to execute on great way to level up your Amazon product images to help reduce AcOs.
They say a picture is worth a thousand words and a thousand words is worth… a picture?
Either way, combine the 2 to create:  Notes of Distinction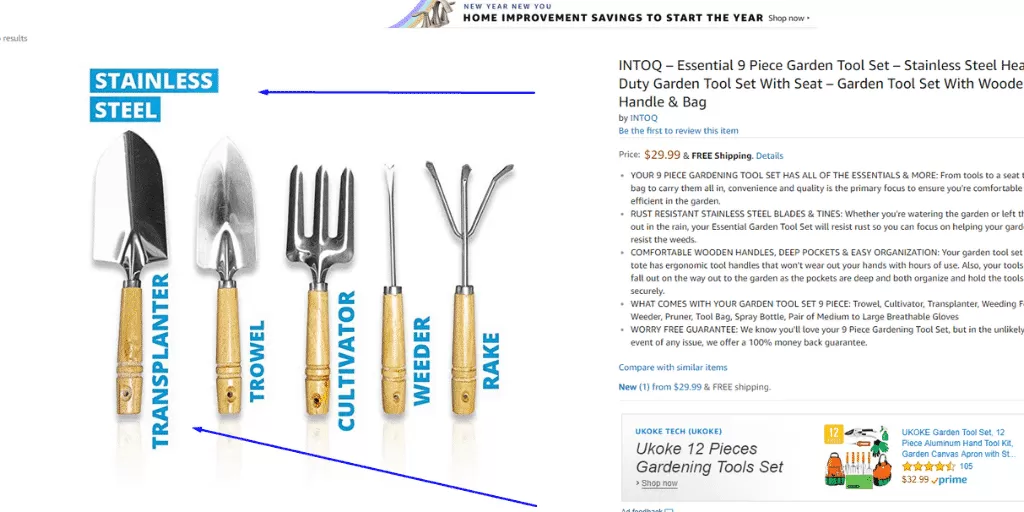 I am a big fan of MIO (Make it Obvious) and that's exactly what's going on here in the image.
If you're an avid gardener, you may know that is a Transplanter and the other is a Trowel, and you may even know what they do, but to me they're just little shovels.
Going the extra mile adding Notes of Distinction to your Amazon product photography also adds a premium feel for potential customers.
Don't mark up every product photo, focus on answering key questions or highlighting key areas of value on certain product images that could benefit from it the most.
For instance, if you mark up your Hero image, you will run into issues with Amazon Seller Support.
You don't want to go overboard either.
Images can start to look cluttered in a hurry if you add too many notes and this takes away from your original intent, which is answering customer questions and calling their focus to specific areas of the product image.
I go more in-depth on Amazon product images in my article: Amazon Product Images Best Practices 
If you can't seem to get your point across in product images and want to add more text to your imagery, the next section is made especially for you.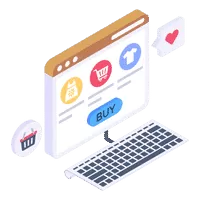 Reduce ACOS With Amazon A+ Content
Whether you are selling on Amazon Seller Central or Amazon Vendor Central, you have an incredibly powerful conversion weapon available to you.
Have a look at this…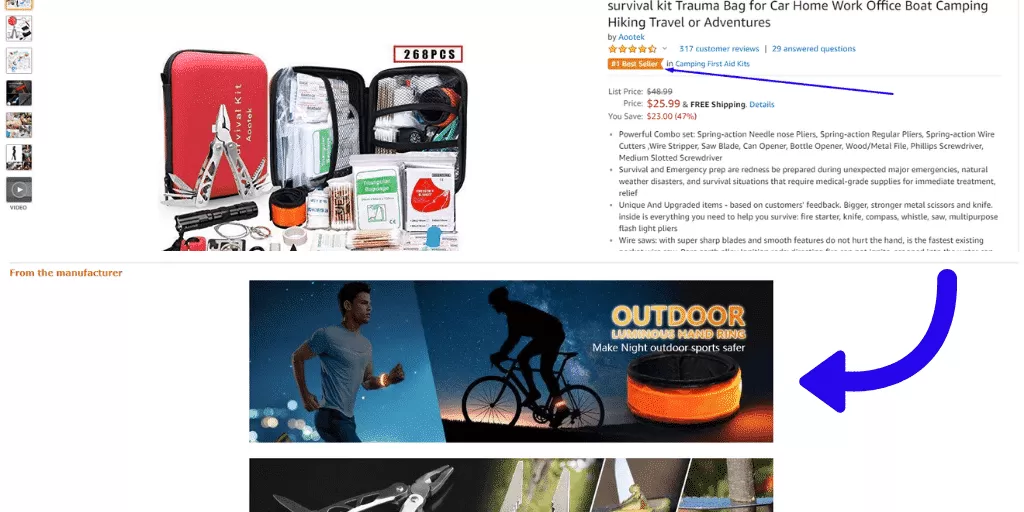 Notice on the top part of the image, you see the Best Seller badge?
Want to know why it's a best seller?
The content that follows beneath it.
If you're selling on Amazon Seller Central and are Brand Registered, it's called Amazon A+ Content. (Learn more about Amazon Brand Registry here:  Amazon Brand Registry: The Complete Guide)
If you're a Vendor Central Seller, it is called an A+ Detail Page.
Essentially, Amazon lets you build landing pages on your Amazon listing with extra content that is not allowed in the Product Description area.
These convert EXTREMELY well because they are mini-landing pages.
Amazon A+ Content plays a significant role in reducing Amazon ACoS.
That being said, here are your goals with Amazon A+ Content…
Your Amazon A+ Content needs to accomplish the following:
Reduce ACoS With Great Amazon A+ Content That:
Focus on emotion, what it feels like AFTER the customer has solved their problem with your product
Highlights main benefits of the product in action
Draws attention to key features
Answers main questions
Handles potential objections to your product
Amazon A+ Content is a great tool to reduce ACoS on Amazon.  The extra effort on your listing is WELL worth it.
That said, getting Amazon reviews is essential.  Here's how.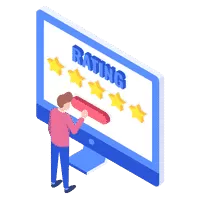 Reduce ACOS With Amazon Reviews
It's no secret that the more Amazon reviews you have, the higher you show up in Amazon search results.
This is because you will have higher conversion rates the more reviews you have.
This directly impacts how much you're going to pay for ads.
If you are able to convert well, you will be shown to more people, for less cost per click.
Think about it:
If you and I sell the same product and are competing for the same exact keywords if I convert at a rate of 10% and you convert at a rate of 1%, you will pay a lot more for those clicks than I will.
With that in mind, here's what you can do.
DO:
Use the Amazon Request a Review Button
Use follow up email sequences
Use a launch list
Use product inserts
Use great packaging
Use the early reviewer program
Use the Vine program
DON'T:
Incentivize reviews
Ask for positive reviews only
Use manipulative language such as: "we're a small family-owned business" or "products made in the USA"
Leave reviews on your own products or have family or friends do it
Great news, I've got a BONUS tip to reduce your ACoS on Amazon.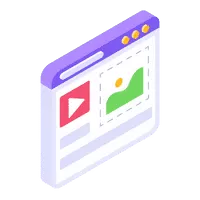 BONUS: Reduce ACoS With Product Explainer Videos
Since you've scrolled this far, time to reward you with a powerful way to reduce ACoS on Amazon.
Having an Explainer Video changes the game.  Have a look: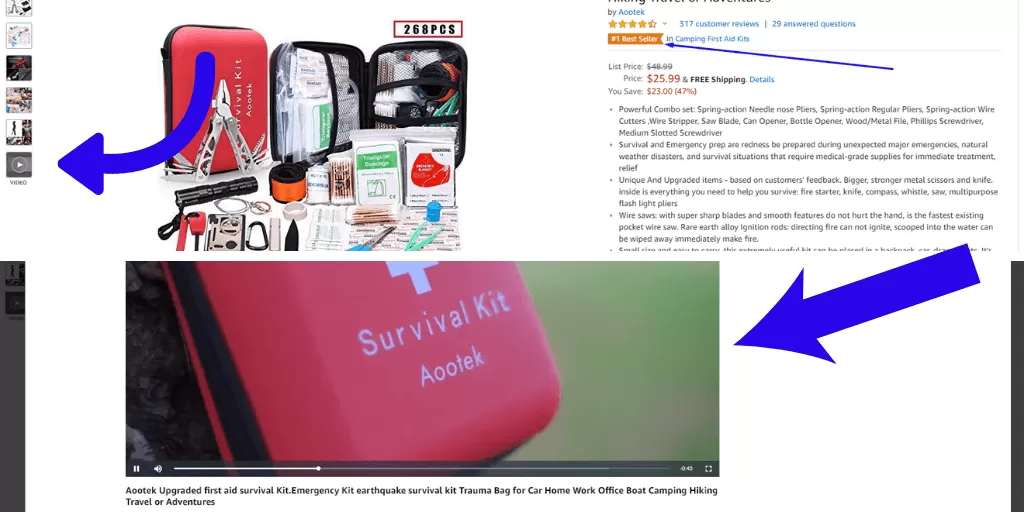 Remember that best seller badge?  Well here is ANOTHER reason why it is a Best Seller.
See the video that appears on the left-hand side in the images section?
If you click on it, you can watch a short Explainer video that does a great job at conveying the value the product brings to the customer.
Video on Amazon does wonders for your conversions, how long people stay on your listing and a multitude of other factors that are directly responsible for how high Amazon chooses to display your products in Amazon product searches.
Why does that matter?
Well, the more you show up organically for Amazon product searches, the less you will have to pay in ads, thus reducing your ACoS.
So does that mean you need to produce a full commercial with all of the bells and whistles just to reduce your ACoS on Amazon?
Not really.  Here is what you should focus on when doing an Explainer Video for Amazon.
Reduce ACoS With Great Explainer Videos for Amazon That:
Focus on Emotion
Justify with Logic
Highlight Key Benefits & Features
Answer Questions
Objection Handle
Call to Action
Now, don't just bust out the IPhone and knock out an explainer video.
There is a laundry list of things you CANNOT do on an Amazon video unless you want to violate Amazon's TOS such as adding in your website, directing folks off Amazon or adding in pricing.
Still, that being said if you have the means to produce an Explainer video.  You will definitely want to.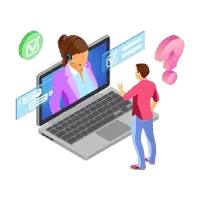 Frequently Asked Questions