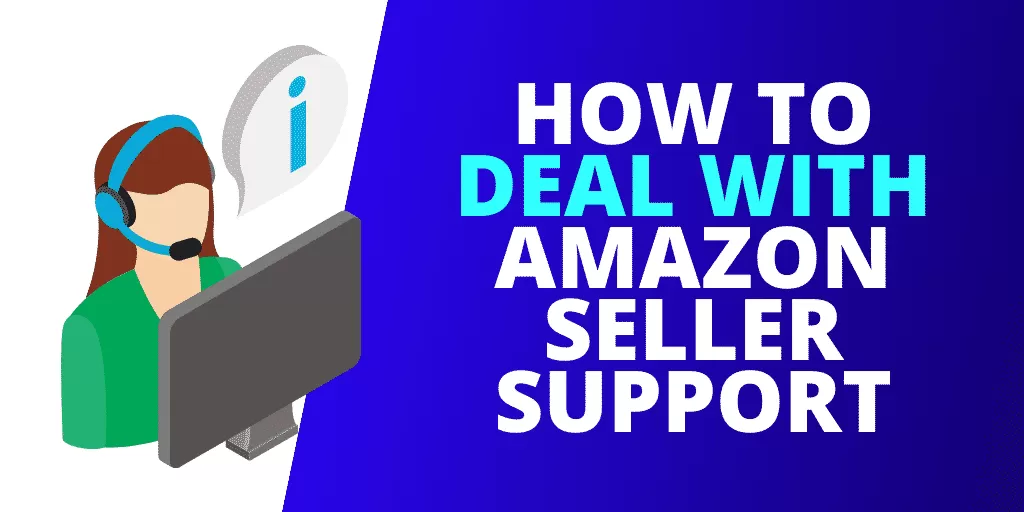 How to Deal With Amazon Seller Support [GUIDE]
How to deal with Amazon Seller Support? First, accept that Amazon Seller Support is bad.  Most Amazon Sellers devote about 10 – 15% of their time each week to dealing with Amazon Seller Support. 
---
Amazon Seller Support and Brand Registry Support can be contacted through Seller Central or the Brand Registry Portal, but it's not always easy.
---
There are certain best practices that will reduce the number of times it takes to contact Amazon Seller Support to resolve an issue.
---
Amazon Seller Support rarely gets it right the first time and takes up a lot of our time dealing with them.
Luckily, there are best practices you can follow to make your life much easier and save yourself a ton of time.
I've spent over 15 years on Amazon and as a top-rated Amazon Consultant at my eCommerce Consultancy I've put together the best tips from over the years with dealing with Amazon Seller Support.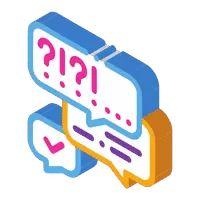 Why Is Amazon Seller Support So Bad?
Why is seller support so bad?
Amazon Seller Support is so bad because of a lack of information provided to their representatives.
Amazon Seller Support agents are not trained in all things Amazon, rather small, fractured segments.
This contributes to the most common pain points with Amazon Seller Support.
Common Amazon Seller Support Pain Points:
Not responding to cases at all

---

Not reading your inquiries and responding with canned responses that have nothing to do with your inquiry.

---

Responding with inaccurate or outdated information.

---

Language barriers.

---

You get routed to help articles or listing tools when trying to speak to a person.

---

Cannot call Amazon Seller Support directly.

---

Cannot email Amazon Seller Support directly.

---

The Amazon Seller Support Ticketing Triage Tree changes throughout the day.

---

Following a particular path to email or receive a call works in the morning but not in the evening based on when support is available or vice versa.

---

The options in the ticketing triage tree are not the same based on who is available at any given time of day and they change.
Since most of the Amazon Seller Support agents you interact with are not trained in additional subject matter, questions are often misunderstood.
For instance, you will contact Amazon Seller Support asking why your ads are not showing and they will respond saying you need to increase your bids, but in actuality, you need to add those keywords that you are trying to advertise on to your listing.
Since they are not trained in Amazon SEO beyond the basics, they wouldn't know to tell you this because the segment of Amazon Seller Support you are dealing with are focused only on Ads.
The same is true for all departments.
They are not trained in things like:  Amazon Influencers, Amazon Listing Optimization & more.
This consistently leads to Amazon Sellers contacting Amazon Seller Support and asking them about an issue and the Amazon Seller Support will repeat the concern back to the Amazon Seller in a way that makes it clear that the Amazon Seller Support agent does not understand your inquiry.
What's more, since you cannot call them directly or email them directly, you need to go through a triage that regularly attempts to route you to help articles or listing tools when you are trying to speak to a person.
That said, how do you contact Amazon Seller Support?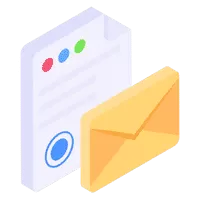 How To Contact Amazon Seller Support
How do you contact Amazon Seller Support?
There is no phone number to contact Amazon Seller Support directly.
There is no email to contact Amazon Seller Support directly.
Amazon Sellers are routed through a triage system to contact Amazon Seller Support.
You have the following options to contact Amazon Seller Support from the triage:
A number of tools to help you solve your problem
Help articles to help you solve your problem
Email a ticket to Amazon Seller Support
Receive a call instantly from Amazon Seller Support by entering your phone number and then get entered into the Amazon Seller Support call queue.
Here are the steps to contact Amazon Seller Support:
1. Click the question mark help icon at the top right of Amazon Seller Central.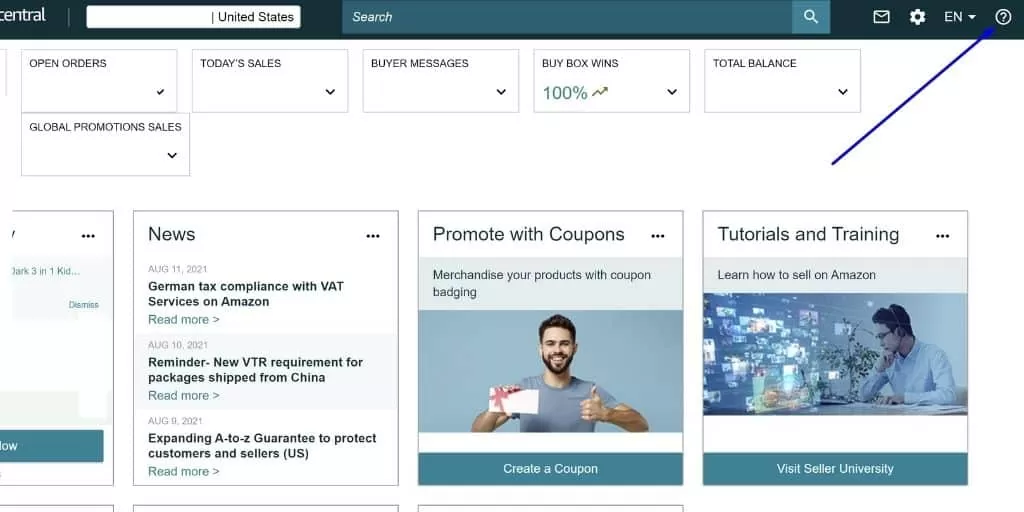 2. Scroll down and click "Get Support".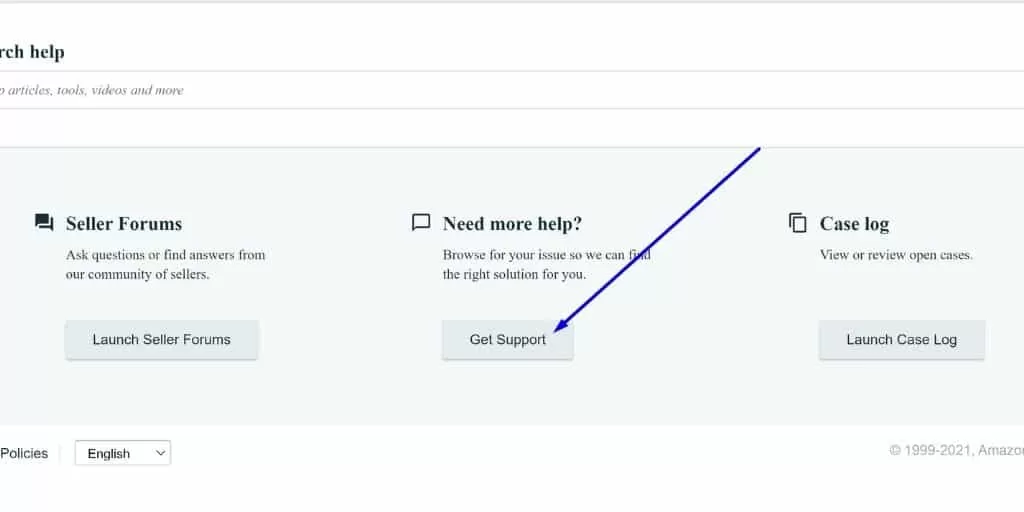 3. Begin making your selections in the triage.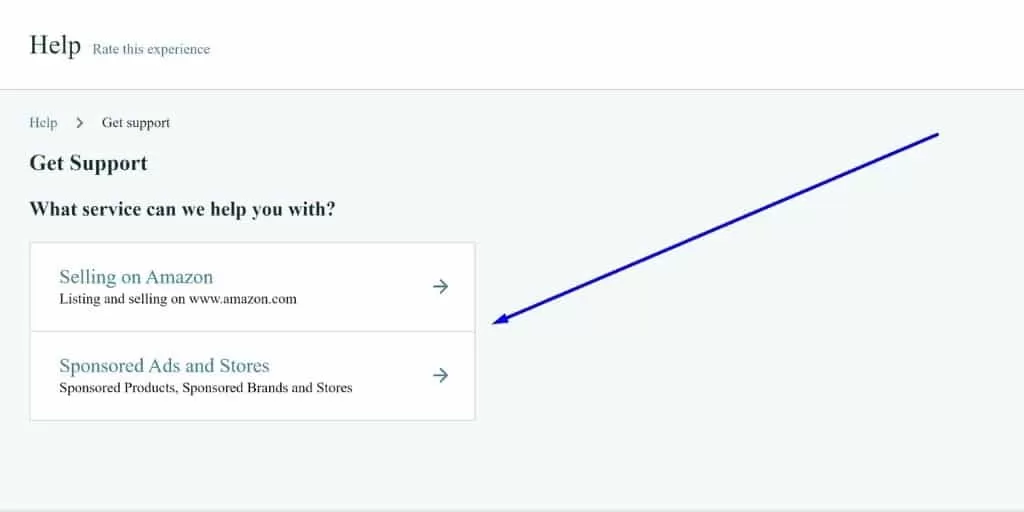 4. Describe your issue in a general sense and hit Continue.
When describing your issue, you want to be somewhat vague so that the rest of the triage routes you to the option to Email or receive a Call from a human.
NOTE:  Copy your initial description of your issue on your clipboard in case you need to adjust it later.
You will notice that depending on what you type in, you can get routed to a tool, a help article or continue on the track to contact a human.
You will typically make a few alterations to describing your issue until you get sent down the right track to contact a human.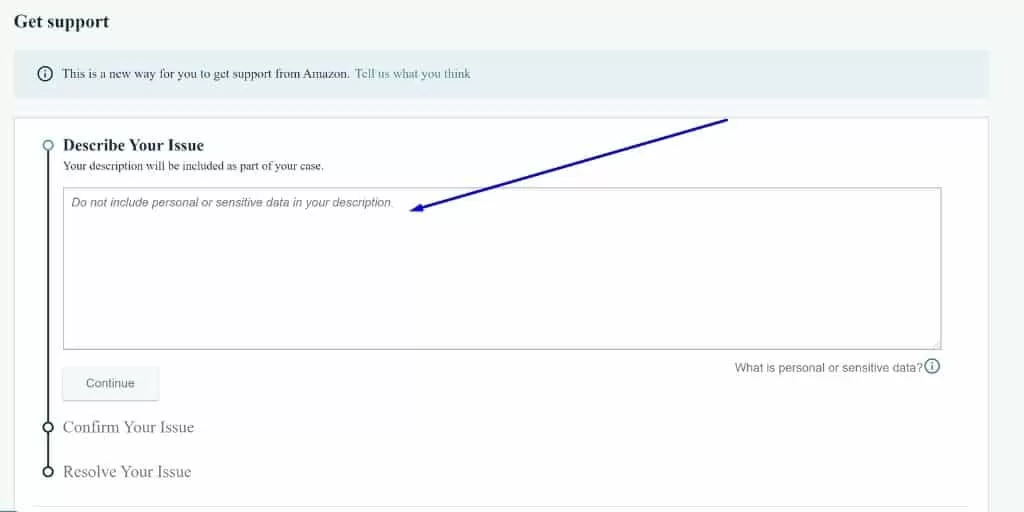 5. Select "My Issue is Not Listed"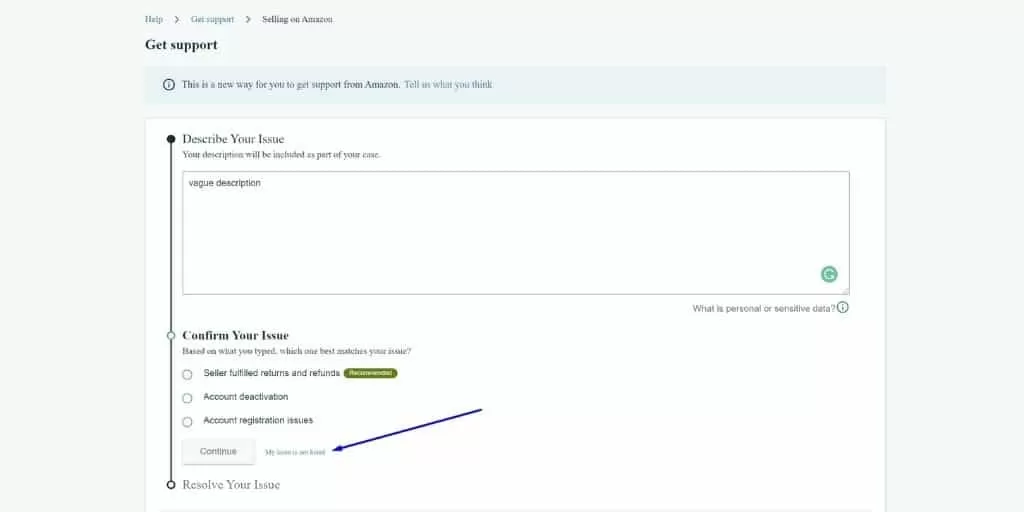 6. Select the general category for your issue and hit Continue.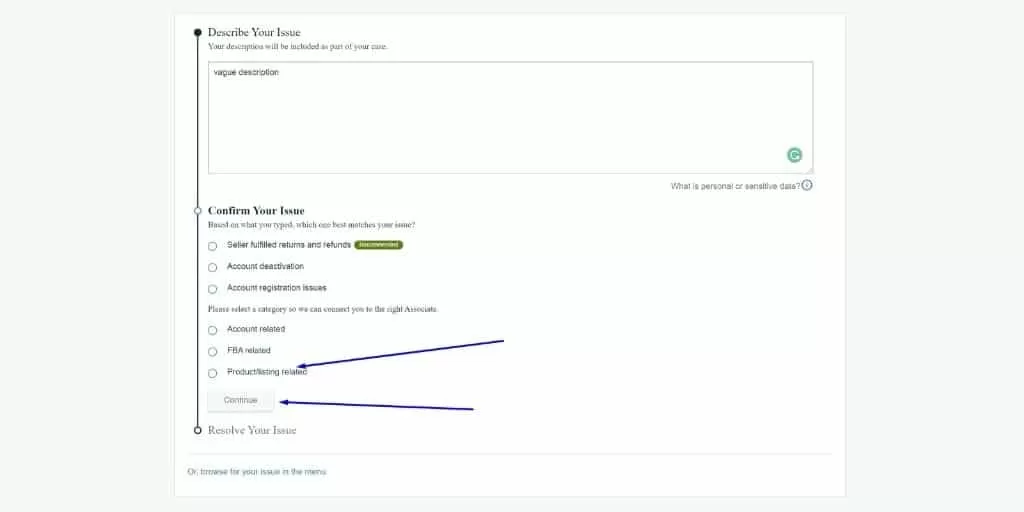 7. Select I don't have an identifier and click Continue.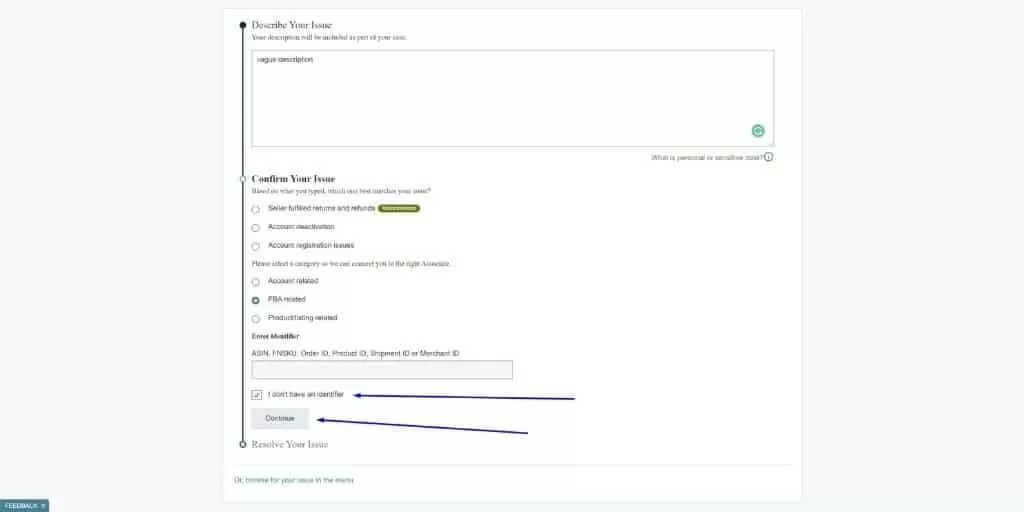 8. Select Email if you want to open up a ticket via email, select Phone if you want them to call you, upload your screenshots supporting your issue, then enter your email and phone and hit Send.
NOTE: Being as literal as possible makes things easier, provide as many screenshots of what your challenge is as you can.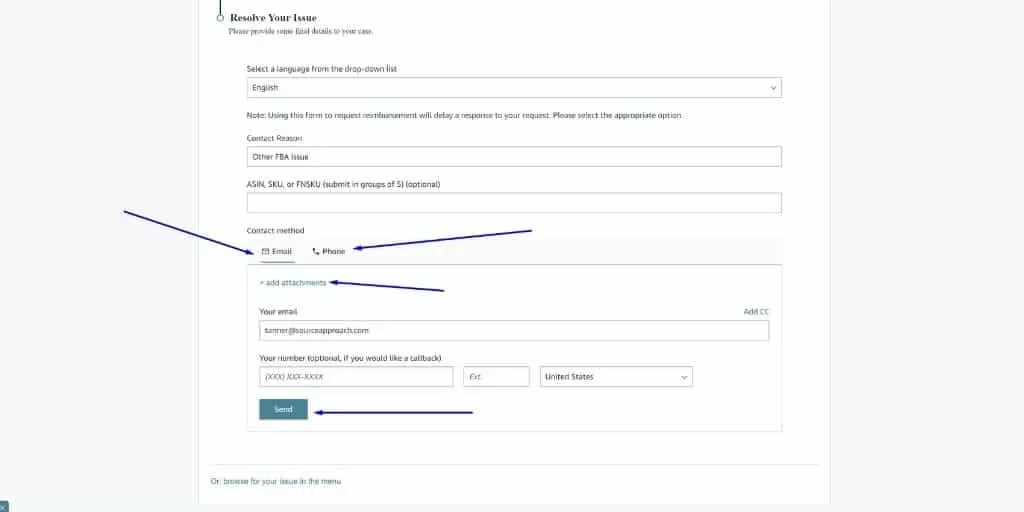 Speaking of adding screenshots, there are a number of tips and tricks I've picked up over the last decade or so that will help you when dealing with Amazon Seller Support.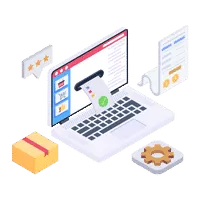 Top 10 Tips To Deal With Amazon Seller Support
Everyone knows that dealing with Amazon Seller Support is painful.
I can speak from personal experience providing Amazon Consulting Services.
That's why it's vital to follow some simple tips and tricks that will make your life easier.
1.  Take Screenshots of Everything
If you're dealing with an error or trying to articulate something you are trying to do in Amazon Seller Central or Amazon Vendor Central, make sure you've taken a screenshot.
Amazon Seller Support reps are not trained in every screen and error and often have to look things up in real-time, so they will likely not be familiar with what you are trying to convey.
2. Set Calendar Reminders To Respond To Cases
The momentum you've built up will be lost if Amazon closes a case on you.
I can't tell you how many times I've seen tickets closed due to no response of the seller simply due to being very busy and couldn't get back to it in time.
3. If You Do Need To Create A New Case, Reference The Previous Case ID
In my experience, Amazon Seller Support will not look at your other cases for context unless you specifically tell them to and give them the exact case ID that you are referring to.
4. If You're Brand Registered, Use The Brand Registry Portal To Open Cases
The fact is that Brand Registry Support is superior to Seller Support when it comes to efficacy and timeliness.
5. If You Initiate A Call, Upload Supporting Documentation and Screenshots While You're On The Phone With Amazon Seller Support
When you initiate a ticket via phone call, head to your case log and reply to the ticket that was just created from "inbound contact" and send in screenshots and supporting documentation.
6. Use The Right Terminology
Apart from being as polite as possible, you can specifically appeal to the Amazon Seller Support reps corporate training to accomplish your goals.
Customer Experience:  Amazon's training emphasizes the customer experience above anything else.  That means you can use it to your advantage.
Don't:  Open a case because your listing is broken and tell Amazon that they need to fix it because it is causing you to lose sales.
Do:  Open a case if your listing is broken and ask Amazon politely to help fix it because it is providing a negative customer experience.
Take Ownership:  Amazon Seller Support reps are trained to take ownership of your issues and to be accountable.  A gentle reminder of this can go a long way for efficacy.
Don't: Tell an Amazon Seller Support rep that they didn't read your inquiry and don't understand what you are asking for if you've had to make a few cases asking for the same thing.
Do:  Ask a Seller Support rep if they will take ownership of this issue and help you resolve it.
7. Don't Tell A Support Rep To Read Back In The Case, Copy and Paste and Surface The Details In The Most Recent Response
It is generally accepted that Amazon Seller Support reps do not read through the entirety of case history.
Instead, copy and paste the details that you need them to know if your reply.
8.  Initiate A Call At The Right Time For US or South American Support
In my experience, initiating a phone call after 5pm EST ensures you speak with a US or South American-based Amazon Seller Support rep.
This is because Indian Standard Time is 9 hours and 30 minutes ahead of Eastern Standard Time.
9. For Amazon FBA Issues, Ask To Speak To The "Captive FBA Team" For Skilled Support
Amazon refers to its US and Costa Rican support reps as the "Captive" team.
These Seller Support reps receive the most training and are equipped to deal with the most challenging issues that Amazon sellers face.
If you are selling via Amazon FBA, this is a great option for you.
10.  Let Seller Support Know What You've Already Tried To Resolve The Problem To Expedite A Resolution
One of the most common frustrations I see is having an urgent issue and getting a response back from Amazon Seller Support that instructs you to do something you've already done.
To avoid this, be clear in the Case on what you've already attempted to resolve the situation.
With tips and tricks covered, these are the most frequently asked questions I've seen in Amazon Consulting in regard to Amazon Seller Support.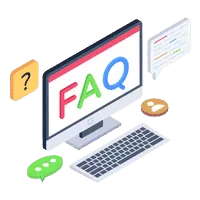 Frequently Asked Questions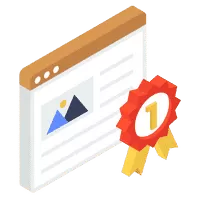 The Best Way To Deal With Amazon Seller Support
The truth is, in my experience as an Amazon Seller Consultant, the best way to deal with Amazon Seller Support is to not let it take up all your time and bandwidth.
Enter, Seller Candy.
If you've ever wished you could outsource all of your Seller Central tasks to a team of experts, then Seller Candy is for you.
They know how to navigate the complexities of Seller Support and will stay on top of tasks to make sure nothing slips through the cracks.
All of this makes Seller Candy a powerful ally to any Amazon Seller who doesn't have the time to deal with Amazon Seller Support.