How To Increase Sales on Amazon Quickly
Selling on Amazon is like hand to hand combat.  Saying it's tough is an understatement of an understatement.
I've been selling on Amazon myself or working with clients for 10 years and if one thing is for sure, getting your initial footing is one thing, but increasing sales on Amazon and building that consistent sales velocity is a whole other story.
That's why I put together this in-depth guide of action items you can use TODAY to increase sales on Amazon quickly.
I've included 9 proven tactics here that I've put together in 10 years of selling on Amazon.
SECTIONS:
Amazon SEO – The importance of SEO and how it is used to increase product rankings in Amazon search results to get your products found on Amazon.
Amazon Marketing Services (AMS) – How to take paid traffic and turn it into long-term free traffic.
Amazon Keyword Research – Learn how to find what keywords to use in your product listings to get customers to your listings and to buy from you.
Amazon Referral Traffic – How to get traffic from other sites to come to Amazon and buy your products.
Amazon Conversion Rate Optimization – how to improve and optimize your listing to get as many sales as possible from the traffic you have coming to your product listings.
Amazon Reviews – Learn how increasing reviews also will increase sales on Amazon and also how to do it.
Amazon Product Sales Copywriting – Amazon product copywriting is one of the main influencing factors in converting your customers.  Here's how to do it.
Amazon Image Quality – Learn how images impact sales on Amazon and what to do about it.
Amazon Promotions – What types will best suit your needs and keep you visible in Amazon's product search results.
Okay, onto How To Increase Sales on Amazon
AMAZON SALES TACTIC 1: 
AMAZON SEO – Amazon Search Engine Optimization
We all want free traffic right?  I think we can agree that as an Amazon seller it's the dream for this sequence to happen:
The customer arrives on Amazon and types in "what your product does" into Amazon's search bar.
Your product shows up in at the top of the search results
The customer clicks on your product.
The customer likes what they see on your listing and buys your product.
Amazon SEO is the tactic of optimizing your Amazon seller account and product listings to be visible in Amazon's a9 search algorithm.  In other words, getting found at the top of Amazon product search results with the goal of increasing sales on Amazon.
How do you do this?
Well there are 25 factors that I go in depth about in Amazon SEO:  Everything You Need To Know [INFOGRAPHIC] but here is the rundown:
Identify what keywords customers are using to find your products.
Use them in your product title, main bullet points, A+ content and long description.

NOTE:  There is no benefit to using them more than once.

Optimize your listings with great imagery and sales copy that makes your customers want to buy (THIS IS AN ART) so your customers actually buy because if they continually visit your listing and NOT buy, then Amazon will shove your listing farther and farther down the product search results.
Make sure you are getting lots of reviews and consistently.  You don't want them coming in waves, Amazon looks for consistency here.  Get systems in place to get reviews on the regular.
If you're an Amazon Seller Central Seller, make sure you are getting positive Seller Feedback.
Make sure you have a Good Amazon Sales Rank.
Now that you've leveled up your seller account and listing, you'll want to make sure you keep that sales velocity up.
AMAZON SALES TACTIC 2:  
Amazon Marketing Services – Advertising – Pay now, FREE organic traffic later!
The intention here is to make sure you have steady, interested traffic coming to your Amazon product listings so they BUY which keeps your Amazon Sales Rank up which in turns will help your Amazon SEO which we just talked about.
Amazon Marketing Services is Amazon's advertising platform for Amazon Seller Central sellers and Amazon Vendor Central sellers.
AMS is a pay per performance/pay per click advertising platform similar to Google's Ads or Facebook Advertising.
There are 3 ways to advertise on AMS.
1) Amazon Sponsored Product Ads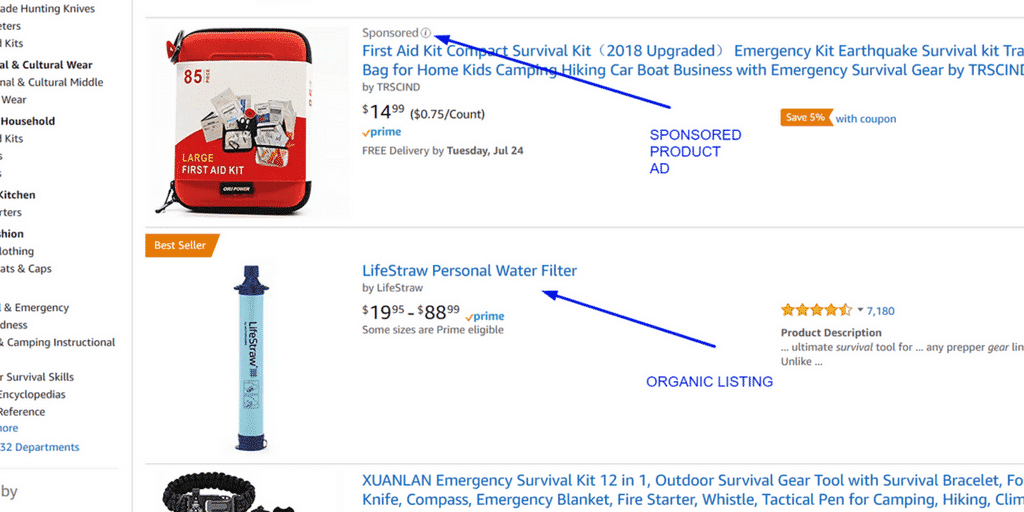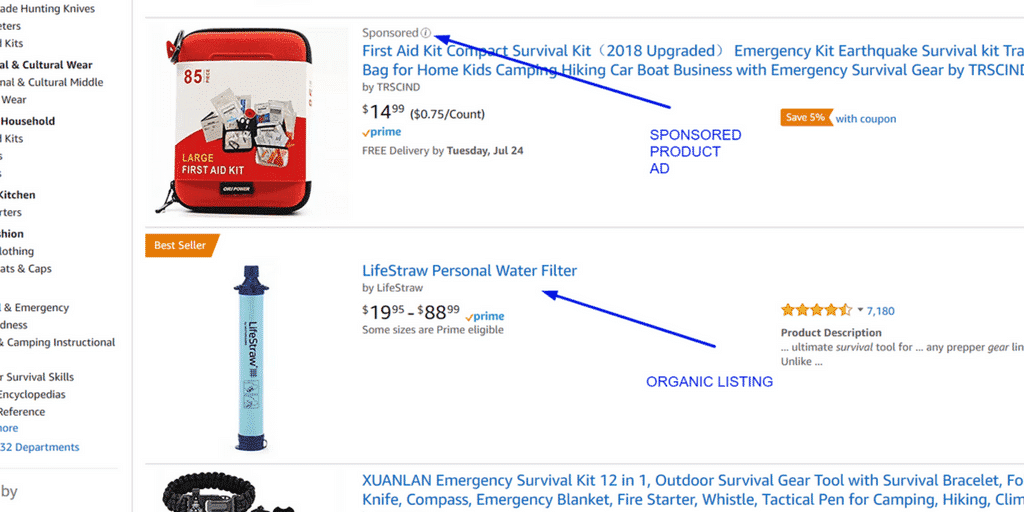 Amazon Sponsored Product Ads are pay per click product placement listings at the top and within search results that appear to blend into normal search results.
They have an indicator of Sponsored but are intended to appear as organic product search results.
Where do Sponsored Product Ads appear?:
Mobile:
Below search results
On product detail pages
Desktop:
Above, alongside and below search results
On product detail pages
Amazon Sponsored Product Ads are typically the best converting because customers are at the end of their customer journey and buying cycle which means:
They've done their product research
Selected a product
Are ready to buy
2) Amazon Headline Search Ads

Amazon headline Search Ads are keyword selected ads that appear at the top of Amazon product searches.
Qualifications to run Amazon Headline Ads are:
Have at least 3 products
Be registered in Amazon Brand Registry
You can send Amazon Headline ad traffic to:
An AMS brand page
A best-selling product
A custom URL (made of three parent products)
These are top of funnel type ads to build brand and product awareness because the types of potential customers that click on these ads aren't necessarily ready to buy, more so they are looking to discover and learn more about products.
3) Amazon Product Display Ads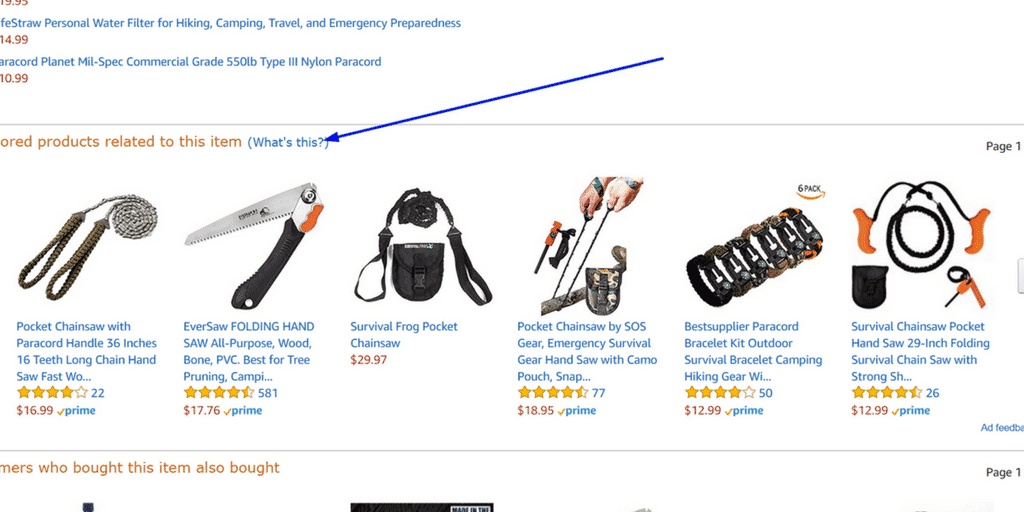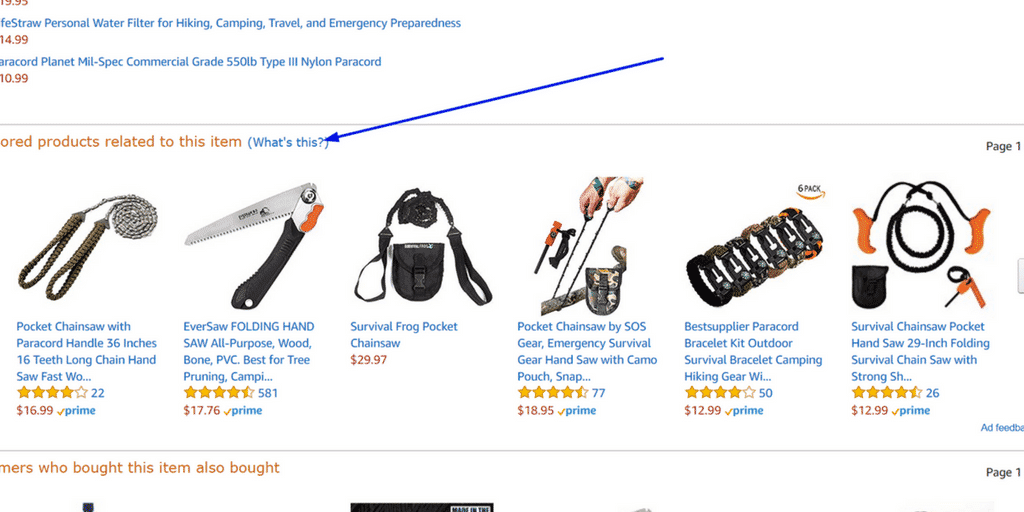 Amazon product display ads are interest or product targeted ads that appear on your or your competitors' product listings.
Product display ads are only available for Amazon Vendor Central sellers at this time.
AMAZON SALES TACTIC 3:  
Keyword Research – Attract FREE traffic through SEO.
Organic keywords are a stark contrast from PPC. Keywords are used to attract FREE traffic through SEO.
In order to increase sales on Amazon using SEO, you should establish and execute a strong strategy to enable you to be found for the key terms or word(s) you care about.
Thinking about what your customers are typing n is your KEY to success within this How to Increase Sales on Amazon article.
As you are thinking about your topic, think like the customer. What does your audience want to know about your niche?

Write many variances of articles/blogs per topic because you're more likely to be found helpful and you'll come across as a trustworthy professional. Congruently, leading to a closed deal.

Keyword phrases- These are what will make you rank on the SERPs (search engine results page).

brainstorm keywords phrases that are similar to your topic.  Substitute the underlined words with your own.

How to

get organic traffic using SEO

, what is

Amazon SEO,

what is the best

chicken and rice recipe

of

2017.

There is an AMAZING and detailed tool from AMZ Tracker. It will tell you how well your keywords are ranking and what your competitor is using in comparison.

 Defensive strategies are in place so that you know right away if there is a negative review or if a seller tries to highjack your listing!

Research what your website is already getting found for. Use web analytics software to analyze traffic sources and identify what keywords people are using to get to your site currently.

This will give you a clue to adjust your current method if you're being found for unrelatable terms

A simple first step is to take advantage of the related search terms that appear after you've typed in the phrase during a Google search. (it's at the bottom of the page)

Type in those related terms and look at your competitions related search terms. Think deep and get creative!
That's right, 45% of shopping is done through the online marketplace and 36% of that number are PAYING customers on Amazon!(
Ecommerce Trends
)
AMAZON SALES TACTIC 4:  
Referral Traffic – Comes directly from other websites.
The original site is the referrer. Your Amazon sales increase the more you're connected to the online world. It's similar to networking.
For example, if you make an effort to attend events or strike up conversation everywhere you go, you're more likely to create a potential business connection. This analogy is comparable to referral traffic. Hence, don't be shy, reach out to others and offer them something in return!
A simplified way of how this works; Google tracks every single visit onto your site from outside sources. Outside sources use your hyperlinks on their page. Once the shopper clicks on the link, it takes them from the outside source to you.
Referral traffic is a great resource because this type of traffic is more likely to be considered as "qualified visitors" because the referrer website is going to use your links if it relates to them and they have most likely established a good reputation with their audience. In turn, your bounce rate won't be as high and your Amazon sales increase.
By spending as little as six hours per week, 66% of marketers see lead generation benefits with social media. (Marketing Statistics)
Building Referral Traffic:

Facebook, Twitter, Pinterest, Instagram are all social media sites that you should have. Post links that lead to your website and/or your Amazon checkout page for a product.
Banner ads- If you include a referral code that is connected to marketing campaigns, it will increase Amazon sales

Referral Traffic = SEO Benefits!

clicking on your site makes Google and Amazon think positive about you! Your ranking factors increase if they come from trusted websites.

Influencer Traffic

Trusted sources post, tweet and share their positive opinion about your product. It could be a Youtube vlogger or a highly visible and respected local coach.
Keyword rankings again! Amazon sales will be flooding your page when an influential person tells people to search for your product using these "3" keywords or repeats a certain phrase.
Amazon sales increase as conversion rates increase. Influencers bump up your wait period of months to be on the first page to days or weeks!
AMAZON SALES TACTIC 5: 
Amazon Conversion Rate Optimization – Use Psychology & Analytics To Make Your Visitors Fall In Love With Your Products
Conversion rates determine overall success. First, let's review your current reports in the Amazon seller central section. On your Amazon seller page, your "Order Item Session Percentage" is your conversion rate.
It's not that useful since all of your products are grouped together, so keep digging deeper until you find "by ASIN". That report is specific to each product.
Once you've analyzed your data, keep notes of what stands out to you negatively and positively, then figure out how you can improve your sales technique. (Keep reading to find out!)
How to increase sales on Amazon:
Improve sales velocity. Change one element at a time in order to see if the changes impact you in any way.
Keywords in your product name, description, and back-end will help you be found.
Keep your page customer friendly and easy to maneuver
Use attractive images and relatable photos so that your audience can imagine themselves using your product.
Amazon sales increase when a shopper is able to read, understand and know immediately they want YOUR product.

Plus, you want sales to happen fast before they change their mind and keep searching. Be short, sweet and descriptive in your product description.

Reviews are a big factor in the customer journey. Sales increase on Amazon if there are good reviews.

A sale is extremely unlikely to occur if there are no reviews. It's a paradox, but everyone gets through it!
AMAZON SALES TACTIC 6: 
Increasing Reviews – More Reviews = More Sales
The results from BrightLocal found that 91% of respondents first read online reviews and use it as a determining factor when purchasing a product or service. (
Consumer Survey)
Customer satisfaction is your primary focus. How to Increase Sales on Amazon correlates with response time, authenticity in your product's description and overall honesty. These factors will get you farther than your competitor.
If you want to increase sales on Amazon, you want to have a comprehensive understanding of customer feedback and how to take action on it.
HOW TO USE CUSTOMER FEEDBACK TO INCREASE SALES ON AMAZON:
Understanding feedback will enable you to improve how you portray your product to the rest of the world.

Seller and product feedback are two separate types of customer service feedback. Focus on Seller feedback, because even if a customer didn't like the product, they can still like you and leave a good review.
Assure your product is good and accurately described to avoid disappointing customers. Set an honest expectation and meet them!

Handle the negative feedback, positively! Amazon sales can increase depending on the way you handle feedback.

Make sure their feedback is NOT against Amazon's guidelines. If it is, it can be removed and your product ranking will not be manipulated and your sales on Amazon will increase.
Time is associated with happiness; Use the fulfillment process by Amazon.
Show you are happy selling your product in response to a defect in your product. Reassure them it's a rare case and you'd be happy to give them credit or replace for free!

Most people do not care to leave a review unless it's a bad one because they expect a good product.

Reply to queries within 24 hours; the sooner the better. Use third-party autoresponders to inform customers you've received their queries. Make it sound personalized too!
In each package include handwritten letters requesting a 4+ star rating and to contact you for any issues before completing the review. This builds a business relationship between you and the customer.

Re-use your competitor's customer reviews with a hint of creativity

keep track of the most helpful reviews. Take their honesty and use it for your own product details.

For example, a review from a competitor's product page, "This air freshener said 30 days of freshness, but only lasted 20 days." it went from a 5 to a 3-star review.
Take that and manipulate it in your description section as, " Day 1: 100% freshness, Day 33:100% freshness" day 34: Ordered another one". Engage your customer with personality.
Who doesn't like a simplified cheat sheet that gives you insight on how to get those GREAT reviews on your products?! The more tips you have, the more sales you'll get.
AMAZON SALES TACTIC 7: 
Product Sales Copy Formatting – "The pen is mightier than the sword"
SEO keyword placement is a strategic play.
Titles, bullet points, and product descriptions should include variations and exact keywords. Don't over-stuff though, keep it natural.
Draw them in with your juicy descriptions. Make them scroll down further for more information.
Separate features and benefits to be persuasive.

Features: ingredients, product origin, dimensions etc
Benefits: what does the customer gain? healthier, skinnier, stronger, better at an activity etc.

Create the idea that your product is necessary right now!

Let them know there are a limited amount of products and sale ends in "x" amount of hours/minutes.

Ethically steal from your competitor.That's right, copy their initial tactics and improve them!

take their phrases ( if it's not trademarked..Duh!)
make note of encountered problems, analogies and similes they use
benefits and points of value
how did/didn't they solve their customer problems? – read their reviews

Use these reviews to describe how your product is better, durable, and reliable

People may rate products initially, then come back later and describe changes throughout a time frame. Use this scenario to your advantage
Optimize your ability to increase sales on Amazon by re-wording their issues as if the same product you sell doesn't have them and exaggerate.

Headlines either pull your prospect in or push them away, which do you want?

Promise your target audience something to get them to want to read the content
If the reader questions your value, you've lost the battle
Compel them to keep reading, hence, leading to your description. Then, they decide to check out. Finally, you have increased sales on Amazon
Don't write for everyone, write for the person you want to attract to your business

Call to Action- each sentence is to get them to read the next.

words must flow easily
keep your words short, we're not impressing the president here, just a  friendly neighbor
description or paragraphs should be short
don't forget to keep it interesting
AMAZON SALES TACTIC 8: 
Quality of Product Images – A picture is worth a thousand words
I bet you knew the material of those pants were velvet! High-quality images help seal the deal. The authenticity of an image helps compensate for the lack of ability to physically examine your product in a store.
Your goal is to reduce the bounce rate and increase conversion rates. Impress your customers so that they become "regulars". They'll be more inclined to shop with you once you've established their trust in you by seeing the quality of your products, reading organic reviews, and thorough descriptions.
Sales increase on Amazon for sellers that are tactful with their images. Customers have not seen the products in person. Therefore, it's vital to paint a clear image for them. Pictures and videos are a great way to show them the size, quality, detailed shape, and design.
High Quality is a good start if you want to see how Amazon sales increase

avoid grainy images
keep it simple
1000 x 1000 px

Show purpose of the product or in the right context of its use

Amazon sales increase if customers feel happy, relieved, safe, excited etc. Make sure your photo directly relates to what you're trying to sell.
Shoppers can envision their products in their home or on them if they can relate to your images

Consistency is key! All images should flow smoothly from one to the next

backgrounds should be white so that you can edit however you'd like
Images should be 5/6 product and 1/6 white space
AMAZON SALES TACTIC 9:  
Offering Promotions – Reduce buyer risk and use this age-old tactic that works
Remember: Don't ever lower your prices indefinitely! Only use promotions. Otherwise, you'll have a hard time increasing the price in the future and keep a good rank on Amazon.
Offering Promotions is another answer for your how to increase sales on Amazon question. It's a great advertising tool and it allows Amazon sellers (you) to gain awareness while increasing sales.
These suggestions will help you achieve short and long-term goals.
Times are tough! Customers feel the need to buy things for instant gratification. Congruently, if you're really good it's because you've persuaded them it's a necessity! But, they're on a budget. You have a product they want and they want to feel like they've won something extra for buying from you.
HOW TO INCREASE SALES ON AMAZON WITH PROMOTIONS:
STEP 1-Discounts
Money off Promotion

 Sales increase on Amazon using this more frequently. By creating a new product selection at the top of the Amazon seller central, in the advertising tab, click on promotions.
You have options to offer "buy packages". For instance, buy 3, save 10%.
Claim codes- they can be used once or an unlimited amount of times throughout a promotion's timeline.

Free Shipping

Amazon sales increase with this option too. You can set specific conditions so that the buyer is eligible for the options.
Buy 3 product or spend $40 or more for free shipping. Don't forget to add a nice note to reach out if they're unhappy before giving a review

Best deal promotions: it appears on "Today's Deals" and can run for up to two weeks.

Feature your entire catalog as discounts. Clients will click on the offering and then they'll be directed to all of your offered discounts within the Best deal.
Allows additional visibility on "Today's Deals" and you can use the Amazon Marketing Services campaign to maximize your visibility on SERPs.
STEP 2-Coupons
Lightning deals are available in Vendor Central and Seller Central platforms.

It offers 6 hours of a promotion of 20% or more. It gives the most visibility on the "Today's Deals" page.

Coupon Landing Page (CLP)- (I hope you have your social media in good standing to help maximize your visibility.)

CLP's are great for off-site marketing campaigns.
Use on social media or in emails
Drives more traffic to your page. Therefore, an increase in your rankings on search sites
Now that you have more of an understanding of how to increase sales on Amazon, keep your momentum going and get started on improvements!
Need any help increasing your sales on Amazon?  We're happy to be helpful as your Amazon Consultant.  Initial Consultations are FREE!!